Five things that I want my children to know about me, prompted by Ella @ notesfromhome.
Tough prompt. I haven't read anyone else's post because I don't want to skew what I'm about to write, but I'm looking forward to going round and having a read. I bet that there are going to be some fab posts out there.
1) I want my children to know that I love them. I'm very afraid that they don't always know this. That I'm not very good at telling them often enough, that I don't show them how I feel. I don't hug, I don't kiss, too often what they hear is shouty mummy. It's not good enough, I will change.
2) I love music. Mainly songs. I can't choose one favourite, but I'm a sucker for easy listening. Sunshine on my Shoulders by John Denver
rates pretty high. As does Sand and Water by Beth Nielsen Chapman.
3) I'd like to be able to draw. I'd love to be creative. I'd like to be able to put the things I see in my mind down on paper. But really it's only my own lack of courage that stops me doing that, so it's another thing that I'm going to change.
4) I am a published poet. No, really. I even got paid for it. No, I can't remember the poem, and I don't think I even have a copy of the magazine any more sadly.
5) Once upon a time I was young, and I wanted to change the world. I believed I could. I'm not sure what happened after that, but I'm starting to believe again that I can. I want to show them that I can, that I can make the world a better place, and that so can they.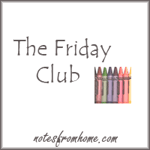 Wow, that was surprisingly tough. I'm off over to Ella's to submit my link and read around some of the other posts now. Hope you'll come with me, or even consider writing and submitting one of your own.