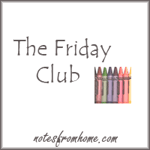 Just one? Oh grief. I'm the original pack rat. The house is stuffed with stuff, the cupboards are past bulging, the shelves are overflowing and many of our heaps have mini heaps of their own. So you'd think that there must be many cherished items around, all with their stories to share.
Not so easy. So much of it is just stuff that I'm terrified to get rid of, just in case, one day we need it. I don't know quite what I think I'm going to need ancient bed lined, or accidentally tie dyed towels for, but that's part of the problem. Working out which bits are truly cherished is far more difficult.
I have a few pictures, but not as many as I'd like. I rather love my piano – a beautiful big present from dp early in our life together, but I don't play it nearly as much as I should. OK, I hardly ever play it, and it's a crime 🙁 Once upon I had a second hand rocking chair that I loved, but we left it behind in a move, because while the funky fabric had been cool and chic when I was a student, it really wasn't gorgeous and funky any more. And the chair didn't rock, it sort of slouched.
A cherished item. It isn't the items I cherish, it's the memories they prompt. So my phone, my soon to be replaced, not at all smart, battered and maligned Blackberry Pearl, I cherish that. But only for the sake of a saved text message, as it's the last I ever got from Katrin. And I know that I can't hold on to those few words for much longer – one of these days the phone will fail to turn on, and that will be it, gone. Such a fragile connection reaching in to the past.
That's too sad a note to end on, so instead I'll leave you with a picture of a cherished bear. Once upon a time I think he was plush and maybe brown, now he's sad and floppy, but I love him anywhere. Isaiah, in case you were wondering. (Because one eye's higher than the other. Yes, well.)
Here are the other entries in this carnival:
The Diary of a Frugal Family shares her family's most Special Things.
Scribbling Mum tells us about her photo wall.
Make Do Mum writes about a precious item in Tick tock tick tock.
Cheeky Wipes gives us her cherished item in Tables Aren't Just For Eating At….
Red Ted Art tells us about her DIY Hobby Horse.
Snipsnaphappy tells us about her cherished item in My Granny's needle.
I Need Curtains for the Window inside my Head writes about the pieces of jewellery that mean the most to her.
Tiddlyompompom tells us about Adopted Ted.
Freckles Family shares A treasured possession.
Mymumdom posts about A Small Boy's Treasure.
Notes From Home posts about her cherished reclaimed box.