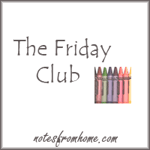 I confess that I wasn't planning to join in with the Friday Club this week. I'm not much of a one for baking. I'm just not good at it. I follow instructions carefully, and at the end, get back something that looks nothing like the picture in the recipe book – it's depressing.
However, Big came home from Guides this week with £2 and a letter saying that this is a fundraising challenge – she's to use the £2 to make a profit and then take the £2 and the profit back to them. Scratching my head over this one I started wondering whether baking and selling cookies would be the way forward. I suppose it's a bit better than just asking the parents for extra money – Guides is not cheap. It comes out at £90 a year for subs, plus Census (no, I don't know what that is either) plus anything extra like camp I'm guessing. Oh and uniform, which I bought on Ebay.
So I got the WI Celebration Cookery book down off the shelf again, and wondered what we could try out of it this time.
Baby likes gingerbread. Looks like a straightforward recipe:
4 oz butter
4 oz caster sugar
4 oz self raising flour
2 tspn ground ginger.
We could get a little gingerbread man cutter – what do you reckon is the going rate for a gingerbread man? 25p? That should raise a fair bit of money *if* we can find ppl to buy them. Perhaps gingerbread isn't ideal though – I know smallest loves them, but the other two kids don't.
I'm really not sure about this. But I can't think of a better way of doing it. Would love to hear your thoughts or suggestions in the usual place. And yes, I'm aware of the irony of me pondering fundraising following a month of banging on about building a library.
Here are the other recipes in this Cakes and Cookies Carnival:
Nova at Cherished by Me gives us her Cherry, Coconut and Marshmallow Traybake. Kelly at Domestic Goddesque posts her recipe for heart-shaped jammy-dodger-style biscuits in Baking with a heart! while Heather at SAHMLovingIt gives us her Scrumptious Beetroot Seed Cake Recipe. Jules at I Need Curtains for the Window in my Head posts her recipe for Almond Macaroons and Helen at Cheeky Wipes gives us her recipe for Coffee Cake. Gemma at HelloitsGemma's Blog posts her (easiest) Banana Cake (ever)and Sian at Pumpkin and Piglet posts her Chocolate Digestive Biscuits. Cass at The Diary of a Frugal Family posts her Nutella Chocolate Chip Cookies. Clare at Seasider in the City gives us her Mars Bar Cake. Bod for Tea shows us how she makes Iced Animal Biscuits. Maggy at Red Ted Art has a guest post from Maison Cupcake's Sarah showing us how to make Love Heart Cookies. Rebecca at twobecomefour gives us her recipe for Beck's Banana Bread. Jenny at Gingerbread House gives us her Gingerbread cupcakes. Tiddlyompompom shares the fun she has making cakes with her daughter in Have your cake and eat it and Ella from Notes from Home rounds off the carnival with her Brownies