The problem with that is we have too much everything and not enough places. And some of the places we do have don't fit our everythings, if you see what I mean.
Another anecdote I think of regularly, is the one where the guy stops for directions. The person he asks looks back at him and says, "if I wanted to go there, I wouldn't start from here."
Hm. But here is the only place I have. I'm trying to be a bit more ruthless and actually get shot of stuff, but I find it incredibly hard. As I bag up clothes for sale or giving away I panic at the thought of maybe needing them some day in the future. It was easier when we lived up in Yorkshire and before I had the extra child, as clothes were passed to friends with children of slightly smaller stature, and you got to see them again (the clothes, on the children, not just the children in themselves) and it didn't totally feel like they'd been given away. Now with an extra child we've been given bags and bags of children's clothes and I'm drowning in the generosity.
I need to be a lot more ruthless. I need to give things away, sell stuff, put it on freegle or take it to a charity shop, or actually put the stuff I want to keep into storage in the loft. Being disorganised eats the time I need to organise though – when I've wasted what little time I have in between all the things that have to happen when they have to happen finding the things that are lost in the heaps, it's hard to find the time to deal with the heaps.
I've tried several times to adopt a policy of not picking something up until I can deal with it and then dealing with it comprehensively – all this leads to is piles of stuff waiting to be dealt with being shuffled from place to place and then falling over.
It doesn't help that the children follow my lead and exaggerate it. They are quite happy to put anything down anywhere and seem to expect it to stay there. The middle of the floor is a favourite, and then they aimlessly stand in the middle of the room – it was just here.
Enough. We have to get organised. Not so much tips here, as desperation and hints on how not to do it – I hope some of the other Friday Club participants have more positive posts!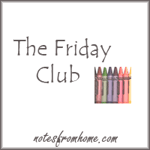 Here are the other entries in this Organising Tips for the Home Carnival:
Make Do Mum posts Organising for Magpies
Maggy at Red Ted Art posts How to… make your own Scrapbook/ Artwork Calendar
Cass at The Diary of a Frugal Family posts How To Be An Organised Mum
Helen at Cheeky Wipes posts her laundry tips
Jules at I Need Curtains for the Window in my Head posts her tips for organising post
Angela at Mum's Survival Guide posts The Organised Side of Me: Paperwork.
Ella at Notes From Home posts her laundry tips.