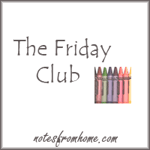 Regular readers and real life friends will be rolling around on the floor laughing at the idea of me sharing *another* recipe via my blog – I am so not the domestic type. Which is why one pot cooking appeals to me, and I just had to join in with the Friday Club carnival this week.
A firm favourite here is vegetable stew. It's a firm favourite because of the dumplings 😉
Really easy to do too. First off I rinse and set boiling some pearl barley – current batch needs 10 minutes proper boiling then at least 30 minutes to cook, but do check the instructions on your pack as they don't all seem to be the same. I do a couple of palmfuls as me and Tim love it, but the kids aren't keen.
While that's simmering, I peel and chop potatoes, leeks, cabbage, any root veg we have about (but not carrots, most of the family hate cooked carrots) and onions. Then the whole lot (including the pearl barley, which I confess I usually boil in a smaller pan, but we'll gloss over that as it's not actually necessary) goes into my biggest pan, along with about a litre of veg stock. (I tried the reduced salt veg stock but it was horrid, so I use the Kallo organic, which doesn't need as much and tastes great.)
While all that is simmering gently away I make dumplings. Atora veg suet, 100g, 200g plain flour and 3 tsp of baking soda which makes them rise way better than using self raising flour does. As much water as needed to make it into a not too sticky dough, and then I use a teaspoon to cut it into chunks, roll them up and drop them into the top of the stew. It's a family tradition that I make a prime number of dumplings – usually 23, hence the name.
Dumplings take at least 20 minutes to cook so the whole stew takes around an hour to make usually – I'm not very fast at doing veg.
It's a good recipe for using stuff up that's a bit sad – sprouts go in it all right, but better towards the end, and even mushrooms find their way in there from time to time. Which makes it a good frugal recipe, to kick off what I'd like to refer to as Frugal Friday. (And yes, this post is doing double duty, which is terribly frugal of me too 😉 ) I'd love to hear your frugal tips, the more offbeat the better.
Mine? I use teabags twice, and you know those disposable baby wipes? They wash, and they wash, and they wash – I'm guessing some of them have been through the wash 10 or more times. Given I use cloth nappies I just chuck them in the nappy bucket and they go through the wash with the nappies (which in turn go through the wash with the clothes as I rinse the solids off beforehand).
Please drop your frugal tips in the comments, or if you wish to blog and link back I'm opening trackbacks on this post. WordPress will link back here automatically, not so sure about blogger 🙂 I'll gather what I can into a summary post next Friday (or thereabouts) and link to anyone I can 🙂 (Yes, free linkage without having to enter a linkie! :D)
Here are the other entries in the Friday Club One-Pot Cooking Carnival:
Helen at Cheeky Wipes gives us her Warm Lentil & Feta Salad Recipe.
Clare at Seasider in the City gives us her Sausage Casserole.
Cass at The Diary of a Frugal Family gives us the perfect pudding for winter, her Rice Pudding.
Nova at Cherished By Me posts her Herby One Pot Chicken.
Cara at Freckles Family posts her Pot-luck Goulash.
Ella at Notes From Home posts her Rice Pudding.