I'm not actually a big fan of Christmas. I find it a very stressful time of year. You see ppl you hardly ever see, and you're supposed to be all best friends with them. You get presents you don't want, and have to work out things to give to ppl you hardly know. Which isn't what it's supposed to be about, but given that I've moved away from a position of faith, I'm left without much to hold onto of the original meaning.
I love carols. Adore them. And Christmas day at Tim's brother's will be great when we get there, but I'm stressing about the fact I've done hardly any shopping (think we're going to have a charity shop Christmas of what I can find over the next few days) and I'm running out of time for the making I want to do. Plus there's cards I haven't posted, secret santas that may or may not make it given the pending snow…
time to take a step back. To remember that this is supposed to be a time for family, for togetherness. Time to look at what is good in our lives and in the world. We have family, we have home. We have funds for shopping and charity shops to shop in.
This will be the baby's first christmas that she actually participates in. She's going to love it I think. She's pretty much cracked walking today – she's been doing little staggery bits from time to time beforehand, but now she gets up and walks with a big grin on her face, expecteing to be congratulated. She also sits with a book in her hand muttering away as she turns the pages, taps her head for you to sing Head Shoulders Knees and Toes, and can indicate her eyes and her nose. If we could just nail sleeping all would be good.
Christmas tree is fascinating, but she's pretty much decided to leave it alone. Her bead frame is nearly as good. I'm going to really enjoy her enjoying seeing all her family over the holidays, and I know she'll love pretty much anything she's given.
So Christmas will be good, despite my forebodings. I'll pull myself together and get organised, and find presents for the kids that suit them. And I'll try to remember that the important thing is togetherness, and I'll treasure that as my best present.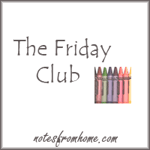 Here are the other entries in this Christmas Carnival:
Cass at The Diary of a Frugal Family shows us how she makes snowglobes.
Nova at Cherished By Me posts her family's Christmas traditions.
Jenny at Gingerbread House writes about her new family's Christmas traditions.
Maria at Fab Mums posts a Christmas poem.
Kelly at A Place of My Own posts about giving thoughtful gifts.
Chris at Thinly Spread writes about her family's Christmas traditions.
Jessica at Jessica Milln's Blog writes about Round Robin letters at Christmas.
Rachael at Tales from the Village shares pics and traditions from her family.
Ella at Notes From Home posts her family's Christmas traditions.